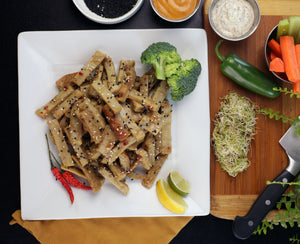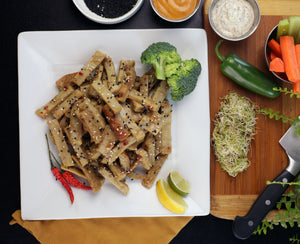 On Sale
General Tso Chicken

General Tso Chicken
With Field Grown plant-based meats you are limited only by your imagination (and we have recipes to help with that!)
Storage
Frozen:  <-18°C (0°F); 6-9 months
Refrigerated: <5° C (40°F); 4 weeks unopened
Once opened, eat within 1 week or refreeze
The Details
What You Get: General Tso Chicken
How Much You Get: 250 - 500 grams
Ingredients: Vital Wheat Gluten, Garbanzo Flour, Soy Sauce, Garlic, Beets, Water, Organic Sunflower or Canola oil, Tomato Paste, Liquid smoke, Natural Flavour, Herbs and spices.
Pastrami Brine Ingredients: Water, Brown Sugar, Liquid Smoke, Beet Juice, Natural Flavour, Spices
CONTAINS: Wheat, Gluten, Mustard, Soy.
Product - 5/5 stars, Delivery - 0/5 starts
I strongly believe in supporting small independent businesses that cater to my non-mainstream preferences. I really like meat but will not eat food that involves animal cruelty. However just as you have to put your trust in me for full, timely payment I have to put my trust in you for high quality goods AND services. YOUR PRODUCT WAS EXCELLENT, but GETTING MY PURCHASES DELIVERD WAS LIKE PULLING TEETH. I have demonstrated that I can be trusted for payment but you have not demonstrated that you can be trusted for delivery. I really want to invest in your business and really want to tell people I know in and around Toronto about it but only if I can trust you. Once reciprocity has been established between me and a business I am an EXCELLENT, LOYAL customer. You can still win me over.