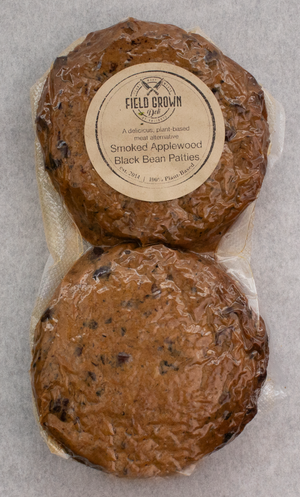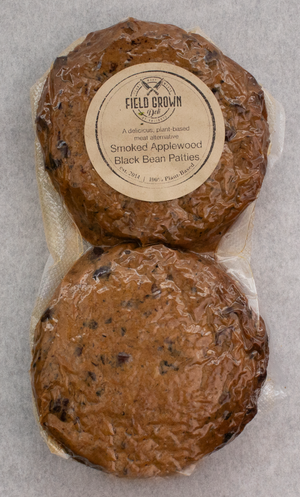 On Sale
Smoked Applewood Patties

If there is one thing we know, it's Burgers. First developed in 2014 and perfected with our new restaurant in 2019, our black bean patty is loaded with organic veggies, spices and flavour. And our new Smoked Applewood patties are an incredibly tasty twist on our gold standard Black Bean & Sweet Potato patties.
These patties are gluten free and Perfect for the BBQ!  
With Field Grown plant-based meats you are limited only by your imagination (and we have recipes to help with that!)
Storage
Frozen:  <-18°C (0°F); 6-9 months
Refrigerated: <5° C (40°F); 4 weeks unopened
Once opened, eat within 1 week or refreeze
The Details
What You Get: 4 Burgers
How Much You Get: 500 grams
Ingredients: Onion, Organic black beans, Brown Rice, Apple Juice, Beets, Water, Organic Sunflower or Canola oil, Celery, Tomato Paste, Garlic, Nutritional yeast, Corn Meal, Apple cider vinegar, Liquid smoke, Corn Starch, Salt, Natural flavour, Herbs and spices.
CONTAINS: No Major Allergens.
Really good. Great texture and taste.
Delicious
Full of flavour with a great texture.
Smoked Applewood Patties
These are amazing. I have ordered many restaurant vegan/vegetarian burgers but these are by far the best.