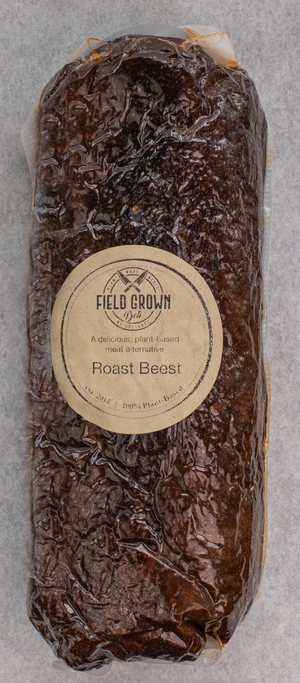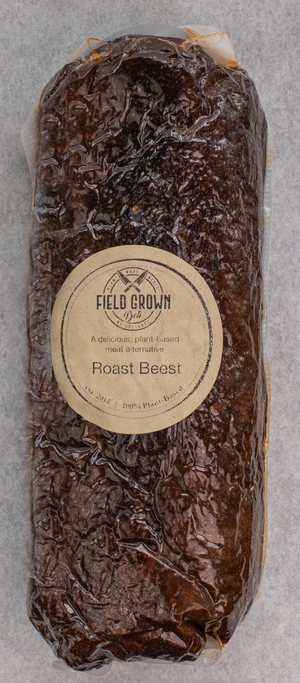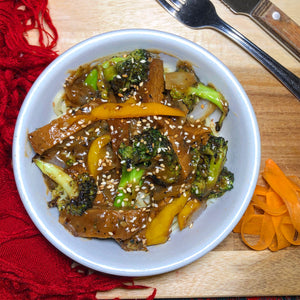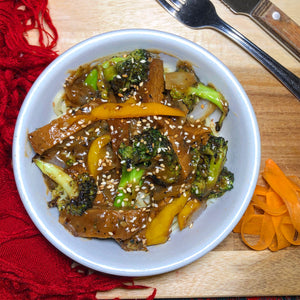 On Sale
Roast Beest

 Hands down our most popular plant-based meat product, our Roast Beest is hand-crafted and balanced with the perfect blend of herbs and spices then cooked to perfection in small batches for the perfect texture. 
Whether sliced for a sandwich (we sell it pre-sliced also!) or charcuterie board, or served center-stage at your families next feast, our Roast Beast will  have everyone at the table begging for seconds!
With Field Grown plant-based meats you are limited only by your imagination (and we have recipes to help with that!)
Storage
Frozen:  <-18°C (0°F); 6-9 months
Refrigerated: <5° C (40°F); 4 weeks unopened
Once opened, eat within 1 week or refreeze
The Details
What You Get: 1 Roast Beest
How Much You Get: 500 grams
Ingredients: Vital Wheat Gluten, Water, Organic Tofu, Organic Sunflower or Canola oil, Miso, Soy Sauce, Tomato Paste, Garlic, Liquid smoke, Natural flavour, Herbs and Spices.
CONTAINS: Wheat, Gluten, Soy.
Recipes
We published our favourite Beef & Broccoli recipe on our newsletter. Check it out here and surprise your family with something new: 
Haven't Tried Yet, But...
I haven't tried everything I ordered yet, but the pastrami is absolutely amazing!! So flavourful! The chicken roast is amazing too. Been slicing bits for sandwiches and also heated up several slices for my daughter for Christmas dinner. Incredible! Can't wait to order again :) Thank you Valiant's!!
Absolutely incredibly delicious
My husband and I couldn't believe how delicious faux meats were. They have definitely gain long-term customers.
LOVE the Roast Beest!
Great texture, amazing flavour! We prepared it in a few ways (on sandwiches, cubed into a potato salad, on cheeze/crackers, etc. and it was a hit. Will definitely buy again!
Yummy!
It was super delicious and they even gave it to me before being able to package it so I could have it for dinner that night! Great food and customer service as always (: