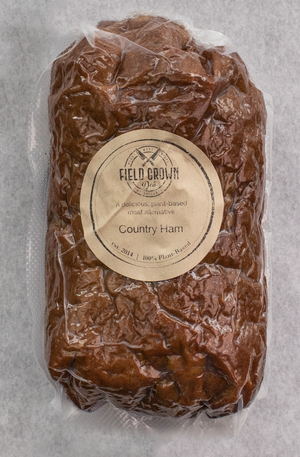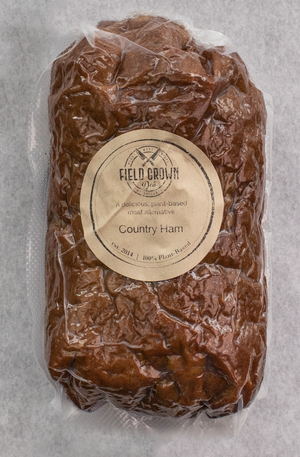 On Sale
Roast Country Ham

The newest addition to our line of Field Grown Roasts, our Country Roast Ham is hand-crafted and balanced with the perfect blend of herbs and spices then cooked to perfection in small batches for the perfect texture. 
Whether sliced for a sandwich (we sell it pre-sliced also!) or charcuterie board, or served centre-stage at your families next feast, our Roast Ham will have everyone at the table begging for seconds!
With Field Grown plant-based meats you are limited only by your imagination (and we have recipes to help with that!)
Storage
Frozen:  <-18°C (0°F); 6-9 months
Refrigerated: <5° C (40°F); 4 weeks unopened
Once opened, eat within 1 week or refreeze
The Details
What You Get: 1 Roast Ham
How Much You Get: 500 grams
Ingredients: Vital Wheat Gluten, Water, Organic Sunflower or Canola oil, Miso, Whole Wheat Flour, Brown Sugar, Garlic, Liquid smoke, Natural flavour, Herbs and Spices.
Great combination
The ham was really good, I made sandwiches with it, they were delicious