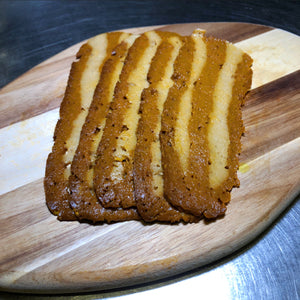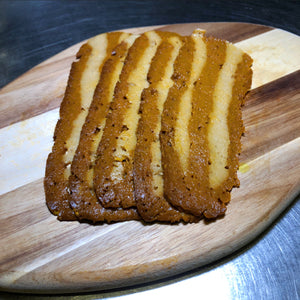 On Sale
Bacun - Smokey

Our Smokey Bacun is hand-crafted and balanced with the perfect blend of spices then cooked to perfection in small batches for the perfect texture. 
Thick-sliced for the perfect light breakfast meat, our Bacun will have everyone at the table begging for more! Perfect for burgers, BLT's or club house sandwiches too!
With Field Grown vegan meats you are limited only by your imagination (and we have recipes to help with that!)
Storage
Frozen:  <-18°C (0°F); 6-9 months
Refrigerated: <5° C (40°F); 4 weeks unopened
Once opened, eat within 1 week or refreeze
The Details
Delicious!
Do yourself a favour and get a couple of packets of this amazing bacon. It's the perfect combination of sweet, and salty. It cooks up quickly and is perfect on a breakfast sandwich or a burger. Freezes well too.
As with the other seven products we have sampled, the Smokey Bacun was delicious and tasted much better than the bacon we recall eating many years ago. We are slowly making our way through the Field Grown Products, and have enjoyed every one. We continue to look forward to the opportunity to once again have a meal at the Restaurant.