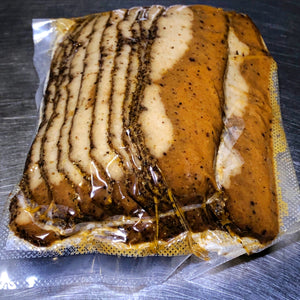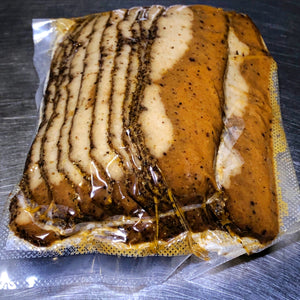 On Sale
Pastrami - Sliced

Seasoned, complex and subtly smoky, our plant-based Pastrami will hit your taste buds with the unexpected and leave you wondering how you ever questioned vegan meat choices.
Perfect on any sandwich, Field Grown Pastrami is so good you may eat if before it gets to the bread!
With Field Grown plant-based meats you are limited only by your imagination (and we have recipes to help with that!)
Storage
Frozen:  <-18°C (0°F); 6-9 months
Refrigerated: <5° C (40°F); 4 weeks unopened
Once opened, eat within 1 week or refreeze
The Details
What You Get: Smokey Pastrami


Sliced pastrami
Undoubtedly the best vegan deli meat i have ever eaten and I believe I have tried them all.
Delicious
One of the things I missed since giving up meat years ago was a great-tasting pastrami on fresh rye sandwich. I make h item rye bread, and Valiant's delicious, well-spiced pastrami does the rest! I'll certainly be ordering it again.
So tasty
This was very tasty. Made for an amazing vegan pastrami sandwich. So nice to have a new addition to add to the roster of deli meats - variety!
Sliced Pastrami is absolutely delicious!
The texture is awesome, yummy smokey flavour, perfect for sandwiches! Will definitely buy again!
Amazing!
The Pastrami is our favorite Deli product from Valiant's! We always buy a double order and keep the extra in the freezer. Tastes great on a pretzel bun with mustard and pickles! A must try!