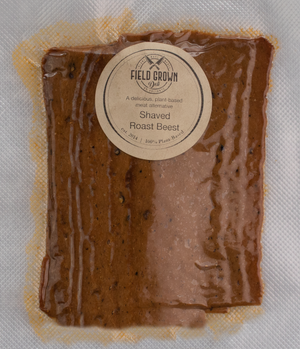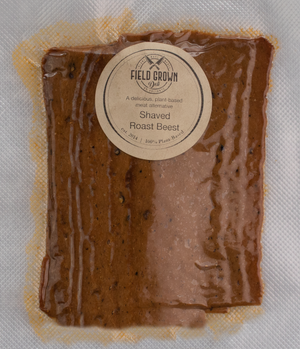 On Sale
Roast Beest Slices

The star of our Philly Cheezesteak & Rueben sandwiches at Valiant's and our most popular sliced meat product.
Our Roast Beest is hand-crafted and balanced with the perfect blend of herbs and spices then cooked to perfection in small batches for the perfect texture. 
Pre-sliced so you can simply open and enjoy on your favourite sandwiches, or easily chopped up for a tasty protein addition on a salad, but it may not make it that far as everyone will be grabbing slices out of the package for a quick snack!
With Field Grown plant-based meats you are limited only by your imagination (and we have recipes to help with that!)
Storage
Frozen:  <-18°C (0°F); 6-9 months
Refrigerated: <5° C (40°F); 4 weeks unopened
Once opened, eat within 1 week or refreeze
The Details

Roast Beest
Excellent product! So enjoyed on this on our sandwiches! Looking forward to making this a staple item of our plant-based deli faves!
Lovely, Flavourful, Good on Sandwiches
Nice and firm, good flavour. I like with lettuce, tomato and onions with Vegannaise on a bun. Would buy again.
Simply Delicious
Hot mustard. Fresh rye bread. Dill pickle on the side. Just like I remember from my meat-eating days years ago. This is a great product that fills the deli gap for me!
These were delicious, as are all of Valiant's Field Grown Products that we have tried during these last few months; we found the Roast Beest Slices to be just the right consistency and very tasty.