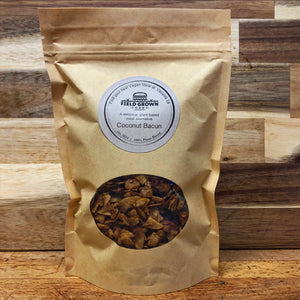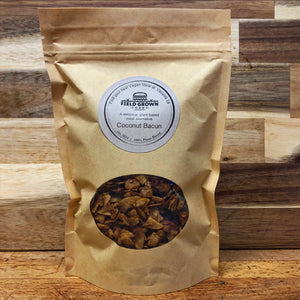 On Sale
Coconut Bacun

Smokey and delicious - just the way Bacon is supposed to be!

Perfect as a salad topper, on sandwiches, soups, baked potato's, or as a standalone snack, our popular Coconut Bacun will satisfy every bacon craving!
Our Bacun marinade has been slowly honed to perfection over the years and won't let you down!
With Field Grown plant-based meats you are limited only by your imagination (and we have recipes to help with that!)
Storage
Our Bacun will last up to 3 months in a cupboard.  
The Details
What You Get: 1 resealable bag Coconut Bacun
How Much You Get: 185 grams
Ingredients: Vital Wheat Gluten, Water, Tomato Paste, Soy Sauce, Organic Sunflower or Canola Oil, Miso, Cider Vinegar, Liquid smoke, Natural Flavour, Herbs and spices.
CONTAINS: Wheat, Gluten, Soy.
Great add to my Cesar salad
Coconut bacon is delicious!