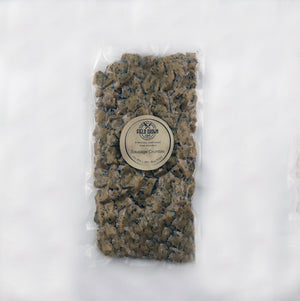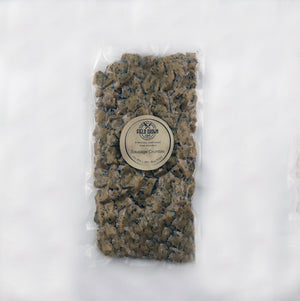 On Sale
Sausage Crumble - MILD

Perfect for stews, stir fries, salads, pasta, & pizza! And pretty much anywhere else you want to sprinkle some delicious crumbled Italian Sausage. 
With the perfect blend of spices, our Crumbled Sausage is the perfect addition to any charcuterie board, or family meal plan! 
With Field Grown plant-based meats you are limited only by your imagination (and we have recipes to help with that!)
Storage
Frozen:  <-18°C (0°F); 6-9 months
Refrigerated: <5° C (40°F); 4 weeks unopened
Once opened, eat within 1 week or refreeze
The Details
What You Get: 1 package Crumbled Sausage
How Much You Get: 225, 450 & 750  grams

Ingredients: Vital Wheat Gluten, Garbanzo Flour, Soy Sauce, Garlic, Water, Organic Sunflower or Canola oil, Liquid smoke, Natural flavour, Herbs and spices.
CONTAINS: Wheat, Gluten, Soy.