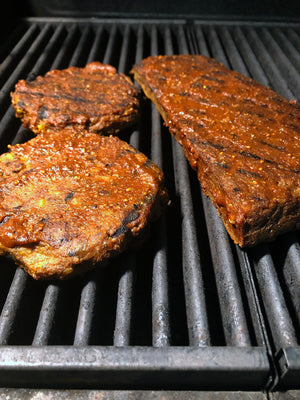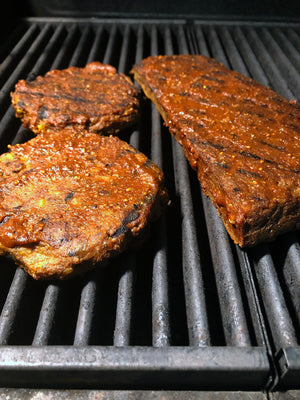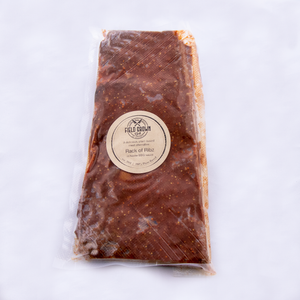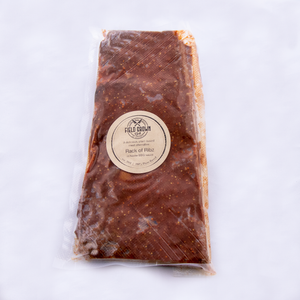 On Sale
BBQ Ribs

Hand-crafted with the perfect blend of herbs and spices, then cooked to perfection in small batches for the perfect texture. 
Whether sliced for a sandwich or as the centrepiece at your next BBQ, our Ribz will have everyone at the table begging for more!
With Field Grown plant-based meats you are limited only by your imagination (and we have recipes to help with that!)
Storage
Frozen:  <-18°C (0°F); 6-9 months
Refrigerated: <5° C (40°F); 4 weeks unopened
Once opened, eat within 1 week or refreeze
The Details
What You Get: 1 Rib Rack marinated in our house BBQ Sauce

How Much You Get: 350 g


Rib BBQ Sauce Ingredients: Ketchup, Natural Root Beer (carbonated water, cane sugar, natural and artificial flavours, caramel colour, natural yucca extract, citric acid, sodium benzoate (preserves freshness)), Balsamiq Vinegar, Dijon Mustard, Sugar, Soy Sauce, Liquid Smoke, Herbs & Spices
Valiant's BBQ Ribs (all Valiant's products)
We love every Valiant's product that we've tried (and there have been numerous!)
So convenient and easy to order, shipping costs are reasonable, and if you're in Barrie you can pop into their restaurant and bring products home from there!
My family and I think Valiant's have the best products we've tried todate!
As good as the rest!
We've completed several large orders of Field Grown, and the Ribs, among other favourites are on our repeat list. Everything we've tried is great!.
Tina and Michael ... Once again, the Rack of Ribs were delicious; as was the Italian Sausage. We also enjoyed the Smokey Bacun and the General Tso Chicken. Although we are fine with cooking these products at home, we are looking forward to the day when we can once again have a meal in the Restaurant.