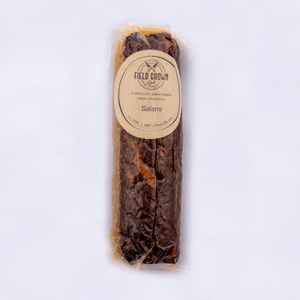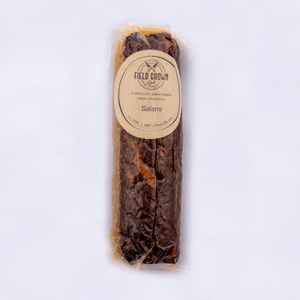 On Sale
Salami

Pasta, soup, salads and sandwiches look out!
With the perfect blend of spices, our salami is the perfect addition to any charcuterie board, cold cuts sandwich, or sub! (and without the health risks of animal based cured meats!)
With Field Grown plant-based meats you are limited only by your imagination (and we have recipes to help with that!)
Storage
Frozen:  <-18°C (0°F); 6-9 months
Refrigerated: <5° C (40°F); 4 weeks unopened
Once opened, eat within 1 week or refreeze
The Details
Delicious
We live in BC and continue to re-order and share your salami & pepperoni with our family, friends and even others who are looking for amazing plant- based alternatives to enjoy. Perfect on pizza, in a sandwich or a grazing board… you cannot go wrong with this product!
A big hit
Your salami has been a big hit with our customers. Many returning to buy multiple packages. We've made wraps with 3 of your meats including salami that have had rave reviews. Great product!