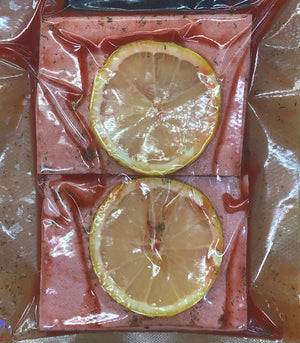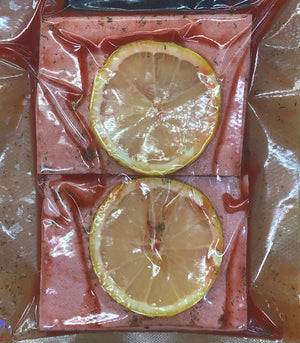 On Sale
Salmon Steaks

A gluten free, healthy, fish alternative!
The perfect romantic dinner food couldn't be easier! Simple open the bag and transfer to a pan - throw some broccoli on top and bake. Serve on a bed of rice with a glass of white wine and let your date drool over all your hard work (we suggest candles!)
Great on the BBQ, or in a sandwich for something different (try it with lettuce, mayo, lemon and cucumbers!) These salmon steaks are a great addition to your dinner rotation and ready to take centerstage on your families dinner plates.
With Field Grown plant-based meats you are limited only by your imagination (and we have recipes to help with that!)
Storage
Salmon steaks will last unopened for up to 4 weeks in the fridge and 6 months in the freezer. Allow to thaw in fridge before heating.  Once opened, eat within 48 hours. 
The Details
What You Get: 2 Salmon Steaks
How Much You Get: 350-400 grams
Ingredients: Organic Tofu, Organic Sunflower or Canola Oil, White Wine Vinegar, Organic nori, Capers, Lemon Slices, Natural flavour, Spices. 
CONTAINS: Soy.
Salmon steaks, as well as turkey bacon and ribs were excellent; the salmon steaks tasted better than what I remember salmon tasting like 25 years ago prior to becoming vegan ... we are very happy to have had these products delivered and will definitely order again ... but, our preference would be to once again have the opportunity to enjoy a meal at Valiant's in Barrie once this pandemic has been brought under control. Tina and Michael we hope to be able to travel once again soon. Take care.