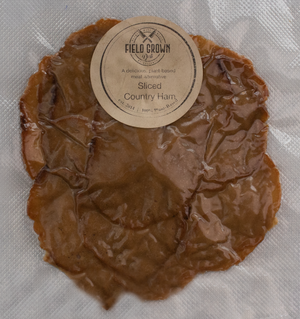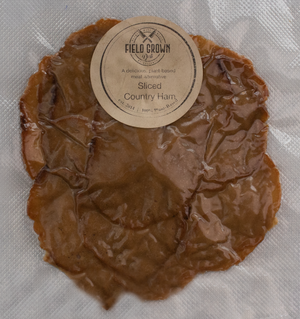 On Sale
Country Roast Ham - Sliced

The newest addition to our line of Field Grown Roasts, our Country Roast Ham is hand-crafted and balanced with the perfect blend of herbs and spices then cooked to perfection in small batches for the perfect texture. 
Pre-sliced for quick sandwich making, our Roast Ham will have everyone at the table begging for seconds!
With Field Grown plant-based meats you are limited only by your imagination (and we have recipes to help with that!)
Storage
Frozen:  <-18°C (0°F); 6-9 months
Refrigerated: <5° C (40°F); 4 weeks unopened
Once opened, eat within 1 week or refreeze
The Details
Amazing product
We will be ordering again soon . Delicious handcrafted product
Roast Ham
Really enjoyed it, cold and warmed up.
Ribs, sausage and meat slices
I have enjoyed everything I have tried so far. I like the fact that I can read all the ingredients.